Dining
Noteworthy Restaurants in Farmville, VA
Hotel Weyanoke is bringing a sense of community to the dining culture of downtown Farmville. Here, locals and guests alike come together to work, mingle, and indulge—all the while enjoying each other's company as much as the incredible cuisine. Whether you're grabbing dinner at Taproot Tavern or kicking back on the rooftop at Catbird, we always aim to offer a truly special experience.
Taproot Tavern
Open Tues - Sun 5 pm - 9 pm
Located downstairs, Taproot Tavern is Hotel Weyanoke's newest restaurant serving drinks and dinner.
Effingham's
Open Fri & Sat 4 pm - 9 pm
An elevated eatery, Effingham's is the place to go in Farmville for hand-tossed pizza, hearty sandwiches, healthy salads, and seasonal entrées. Open seasonally.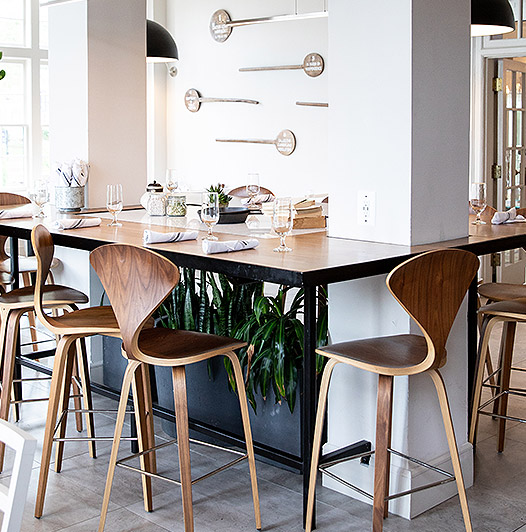 Catbird
Open Tue - Thurs 5 pm - 9 pm
Fri & Sat 5 pm - 12 pm
Our rooftop terrace is one of a kind, offering cocktails, craft beer, and wine, as well as an enticing menu of small plates. Open seasonally.
Daily Breakfast
Served From 7 am - 10 am
Included with your stay, hotel guests will enjoy a continental grab-and-go breakfast in the lobby. Fuel up on an array of morning favorites including pastries, juices, coffee, yogurt, granola bars, and more before heading out to explore the town.