Scroll Down
Small-Town Charm Meets
High-Touch Hospitality
Welcome to

the Historic Hotel Weyanoke

Small-town charm meets high-touch hospitality at the most stylish of Farmville, VA hotels. Originally opened in 1925, Hotel Weyanoke continues to serve as a community hub for sharing ideas, celebrating milestones, and trying new things. Here, you'll enjoy luxurious accommodations, creative cuisine, and thoughtful service—all in the heart of historic downtown Farmville.

Learn More
Accommodations
Luxury Rooms & Suites
Historic architecture meets mid-century style in our thoughtfully designed guest rooms, featuring a variety of upscale amenities.
Culinary Offerings
Located downstairs, Taproot Tavern is Hotel Weyanoke's newest restaurant serving drinks and dinner.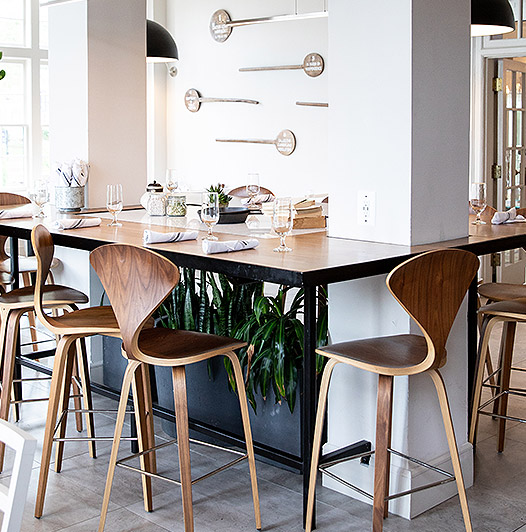 An elevated eatery, Effingham's is the place to go in Farmville for hand-tossed pizza, hearty sandwiches, healthy salads, and seasonal entrées. Open seasonally.
Our rooftop terrace is one of a kind, offering cocktails, craft beer, and wine, as well as an enticing menu of small plates. Open seasonally.
Events
Reasons to Celebrate
We were born to be great hosts. Allow our friendly and experienced event staff create an unforgettable memory for both you and your guests.
We're Blushing
Quiet, Elegant, 5-Star Charm
"This place has it all, from the lovely appointed rooms to the personal touches and amenities to the two restaurant possibilities. Staff extremely friendly. Wonderful place to rejuvenate... Highly recommend and will be back for sure."
- 646carolv
Visiting Farmville
"This place is beyond amazing. Very clean, modern, wonderful hotel… Highly recommend. The room was very spacious, and the shower was wonderful and large. Great location, and the two restaurants onsite are amazing."
- Tracy C.
Exceeded Expectations
"This hotel is gorgeous. Rooms are spacious, comfortable, and have a ton of top amenities. I booked this hotel because I wanted something close to everything that allowed me to bring my pup… I want to visit Farmville again just to stay at this hotel!"
- LucyKelly
As Nice as It Looks in the Pictures
"Beautiful hotel. Great staff. Perfectly clean. Just as nice as it looks in the pictures. Rooftop bar was fun. Unique room with balcony. Great character. Bed was very comfortable. Will definitely book here again."
- Extraordinary109681
Location
Discover Farmville
Stay close to beloved universities, idyllic state parks, and an eclectic array of attractions, from the High Bridge Trail to the Main Street shops.